Personal Finance Course
Downloads:
Study Guide - focus and review the most important points
Worksheet - apply what you learn to your own financial plans
Part 1: Where Wealth Comes From
A look at the history of money, why mankind uses money, how value is generated, and a closer look at exactly what wealth really is.
Part 2: Where Your Wealth Begins
A look at basic money management skills with explanations of discretionary income, the pay-yourself-first strategy, where to find more money, and how a minimum wage worker can be wealthier than someone making ten times as much!
Part 3: Compound Interest & The Time Value of Money
With a brief review of where to find wealth in your own cash flow, we discuss in detail the factors in the Time Value of Money that powers investments that grow wealth, and take an indepth look at the model where changing the factors grows $200 into $250,000!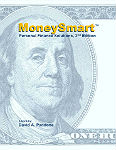 The MoneySmart Personal Finance Solutions, 2nd Ed. book and its various guides and financial information is recommended as its solutions and personal financial information revealed thereby is referred to often.  There is no required reading for this course and the MoneySmart book is not required.  The book is recommended for course participants as exercises are already organized and ready to implement for your personal financial plans.